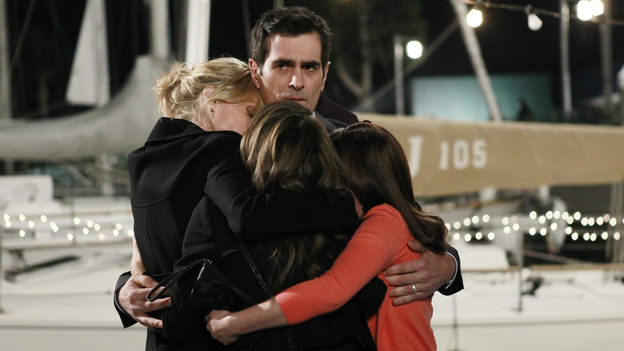 abc
I love TV and watch WAYYYY too much of it. It would be a shorter list of shows I don't like than do. There aren't many I can't watch, but my absolute favorite right now is
Modern Family
. That show completely cracks me up. I love my family and know how many humorous moments we have and it is so funny to watch a show that demonstrates how much family means and no matter what the dilemma is, true family love gets you through it.
Any man that is in a house of even one woman knows that there are certain times of the month you might as well just say "Yes, dear" and agree. I am not saying that every female emotion should be blamed on PMS, but you ladies have to admit, we have no control a few days of the month.
Last night, I thought they showed the three basic emotions perfectly through the mom and two daughters. (Hence the Satan's Trifecta.) You can go from emotional, to downright pissed, to spacey and plain dumb. If the fatigue isn't bad enough during that time, walking around the house going into the same room five times because you forgot what you went in there for is enough to wear you out. Plus, it is draining to be Bitchy, Mopey, and Dopey all at the same time.
I never really thought about how hard it had to have been on my dad and brother with me and my mom and sister and our monthly episodes. The dad character,Phil, said on the show last night that women who are around each other a lot tend to have the same cycles and where that is true some of the times, I remember my dad always saying, "With 3 women in the house someone is always on their time of the month." I will say I think my brother is a much more sensitive and understanding man and husband because of what he witnessed growing up. Men that don't have sisters seem to kind of miss out on that experience. I don't know, maybe my brother is more scared and aware than anything! Maybe I should start keeping track of the weekends he and his twin boys show up at the house and stay for awhile! (I am teasing you, Bethany!) And we women know that really and truly we only have one week out of the month that we actually feel normal. I think my two boys will be more sensitive having an older sister. At least in our little family it balanced with 2 on 2!
The thing I love about this show is that there is always something going on with all 3 families. While the women were out of whack in one family, the man was recognizing his feminine side in the other, and the third family was celebrating a Leap Year birthday with a suprise party that went completely wrong until the end. And, of course, unlike life, all the chaos and obstacles get cleared up in thirty minutes. But, what a funny and great escape for me those 30 minutes are!