I am not even going to act like I am really smart and know all about other countries. I am blonde, remember?
The only thing I really know about Croatia is from the tv show
ER
. Remember cute Dr. Luka Kovac? He was from there and didn't really talk about it much. He was an emotional wreck due to the violence and war from his homeland.
wikipedia
The only kind of knowledge I have about Scotland is from the movie
Braveheart
.
newspaper
It does seem that hot guys come from both places so maybe that is why last night's episode of
The Beachelorette
was in Croatia, but they watched the animated movie
Brave
about Scotland. There seemed to be a lot of similarity in the two places. That is all I can figure out.
I could have done without the bipolar look, though. The guys were in muscle shirts and....................kilts. As Jef with one "f" put it, there isn't really much difference between a skirt and kilt. They looked really tough from the waist up and then had on skirts to finish the look.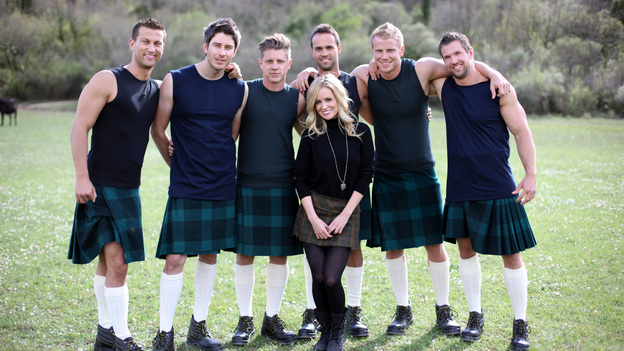 abc
The only one who might have appreciated the look and wasn't there was Ryan. What the heck is in his wardrobe? Did he steal Emily's tank top?
I am so glad she sent him home. Now he will have time to be the President of his own fan club. He did try to manipulate her and not go home easily, but I am glad she didn't budge. I have a feeling he would be completely demanding and degrading in real life. That, and they evidently would be fighting over razors. Does he really shave the hair on his fingers? Oh well, I am just glad we only have editing to blame for him coming across as an arrogant jerk. HA!!! I love how he said, when the other guys were on the group date, that he "had a good day, spending time alone, that is all he really wanted." That isn't weird or creepy at all! What was extremely creepy were those turquoise shoes he picked out to wear and the way all of his clothes were hanging just perfect, his shoes all in a line, and the iron right there with them. It reminded me of the movie
Sleeping With The Enemy
.
I felt bad for Travis, but I don't think I could have ever gotten past the deal with him and the egg. Chris got the rose, but it was more of a pity rose. Only a mom would appreciate an effort more than the performance.
I always wonder when one of the contestants go to the Bachelor or Bachelorette's room how they know where they are. It was a bold move and there seems to be so much of a bromance with all of the men didn't anyone notice Arie was gone?
I was tricked at the end. I really thought she was going to send John and Doug home. Heck, it looked like for a minute Chris might get the rose. He is now, or about to be, single. Is he eligible to be the next Bachelor? It seems like every season at least one of the contestants knows a producer or someone with the show, so Chris could either be the bachelor or a contestant for the next Bachelorette. That is what magazines are saying about Arie. They claim he knows a producer that Emily is friends with. I really hope it doesn't mess up his chances. I think he may still be in the lead, but Jef with one "f" is close behind. I was trying to listen to him tell her why it took so long to kiss her, but I couldn't stop looking at his hair. It is sort of a mohawk, but I have to say I am jealous of the volume and body he has in it.
I'll say it again, I am just glad she sent Ryan home. She just might want to check her suitcase though, I am sure he took some of her wardrobe home with him!